Monday, November 7, 2022 / by Julie Winter-Paez
With everything going on in the housing market right now, it's a lot to keep track of. And if you're thinking of buying or selling a home, you're probably already feeling like you've got your hands full. That's where I come in. I keep my pulse on the latest trends in the industry, and it can explain exactly what they mean to you. Here are just a few of the top questions I'm answering right now.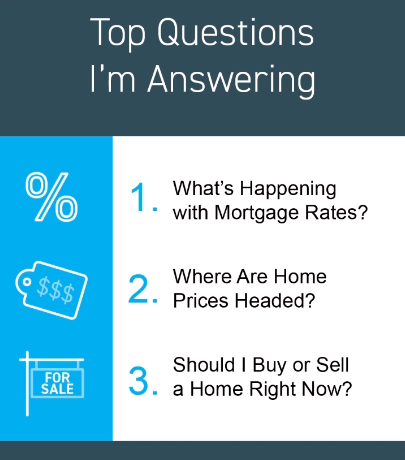 1. What's happening with the mortgage rates? Rates have risen dramatically this year in response to higher inflation.


2. Where are home prices headed? Prices are moderating as the market cools, but that doesn't mean they're crashing.


3. Should I buy or sell a home right now? Well, that always depends on your personal situation, an expert can help you explore your options to decide what is best for you.



If you're thinking of making a move, you probably have questions too, and I've got the answers. Let's connect. So you feel confident in your decision to buy or sell a home, give me a call and have a fantastic day.